Indonesia, an archipelago nestled in Southeast Asia, is not just a haven of stunning landscapes but also a treasure trove of natural resources. The mining industry in Indonesia has played a pivotal role in shaping the nation's economy and global resource market.
In this series of Major Industries in Indonesia, we delve deep into the fascinating world of the mining industry in Indonesia, exploring its history, the types of minerals mined, environmental concerns, economic impact, and the path to a sustainable future.
Also read: 7 Reasons and Advantages for Starting a Business in Indonesia
Indonesia Mining Industry Outlook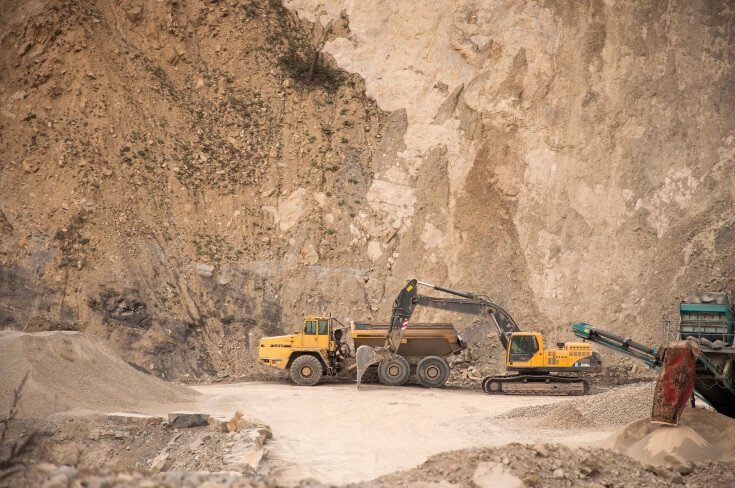 Indonesia's mining industry is on an upward trajectory, primarily driven by robust demand from economic powerhouses like China and other Asian nations. In addition to market demand, the Indonesian government is taking proactive measures to bolster the industry, implementing policies designed to attract investment and stimulate downstream processing of minerals.
Also read: 10 Reasons Why You Should Invest in Indonesia
Exploring Mining Business Opportunities in Indonesia
The nation offers a wealth of opportunities within its mining sector:
Exploration and Mining


Indonesia possesses an extensive mineral resource base, with vast areas yet to be fully explored. Moreover, opportunities abound for more efficient and sustainable methods of mining existing mineral deposits.

Downstream Processing


The Indonesian government is promoting investment in the downstream processing of minerals. This involves constructing smelters, refineries, and other facilities to transform raw materials into higher-value products.

Mining Services


The demand for mining-related services is soaring, encompassing engineering, construction, and equipment rental.
Also read: 10 Essential Things About Business Culture in Indonesia
Promising Mining Sectors in Indonesia
Several sectors exhibit considerable promise:
Nickel


Indonesia houses the world's largest nickel reserves, with demand poised to surge due to the growing usage of electric vehicles.

Copper


The nation ranks among the world's top copper producers, with copper remaining a vital component in numerous industrial products.

Gold


Indonesia is a significant gold producer, and the demand for gold as a safe-haven asset is expected to remain strong.

Coal


As the world's leading exporter of thermal coal, Indonesia plays a pivotal role in meeting global energy needs. While demand for coal may decline as countries transition to renewable energy sources, a steady demand persists within Indonesia and other Asian nations.
Also read: 25 Profitable Business Ideas and Opportunities in Indonesia
Regulations in the Indonesian Mining Business
The mining industry in Indonesia is regulated by a number of laws and regulations, including:
Law No. 4 of 2009 on Mineral and Coal Mining
Government Regulation No. 23 of 2010 on the Operation of Mineral and Coal Mining Business
Government Regulation No. 96 of 2021 on the Implementation of Mineral and Coal Mining Business Activities
These regulations cover a wide range of topics, including:
Licensing
Exploration
Mining
Environmental protection
Downstream processing of minerals
Foreign investors are allowed to invest in the mining industry in Indonesia, but they are required to partner with local companies. The government is also encouraging mining companies to invest in downstream processing of minerals.
Also read: Understanding Indonesia Business Law
Key Players in the Indonesian Mining Industry
The following are some of the dominant brands in Indonesia's mining landscape and their respective market shares:
PT Antam Tbk
PT Bukit Asam Tbk
Freeport Indonesia
PT Indonesia Asahan Aluminium (Persero)
PT Timah Tbk
Also read: Top 10 Mining Companies in Indonesia
Starting a Mining Business in Indonesia
Embarking on a mining venture in Indonesia requires meticulous planning and adherence to legal requirements. Here are the essential steps to start your mining company:
Market Research


Identify the minerals you intend to mine and explore potential markets for your minerals.

Form a Company


Establish a legal entity in Indonesia, which is vital for conducting mining operations. To make sure the registration process hassle-free, check our services for company registration in Indonesia.

Obtain a Mining License


Apply for a mining license from the Ministry of Energy and Mineral Resources, complying with all applicable laws and regulations.

For a simpler business registration process, there are a number of resources and support services available to help you get started.

InvestinAsia is one of the companies specializing in assisting you with business registration in Indonesia. Our team of experts can help you obtain important business requirements, such as:

So, what are you waiting for? Chat with us now and get a special offer!

Secure Financing


Securing adequate financing is crucial for your mining operations to take off successfully.

Hire Staff


Recruit a qualified team to operate and manage your mining business effectively.

Develop a Mining Plan


Create a comprehensive mining plan that outlines your mineral extraction methods and strategies for mitigating environmental impacts.

Also read: How to Write a Business Plan: Simple Step-by-Step Guide

Commence Mining Operations


Once all necessary permits and licenses are in place, you can initiate mining operations.
Starting a mining business in Indonesia can be intricate and challenging. Seeking advice from legal experts and consultants specialized in the mining industry is highly recommended.
Indonesia's mining industry is a dynamic and influential force in the global arena. With abundant mineral reserves and government support, the nation continues to offer a myriad of opportunities for investors. However, navigating the complex regulatory landscape requires professional guidance. For those willing to take on the challenge, Indonesia's mining industry can be a rewarding endeavor.
If you are considering starting a mining business in Indonesia, our team of experts can guide you throughout the process of:
If you have further questions or inquiries, you can start by contacting us for FREE consultation.